Boeuf En Daube Provencal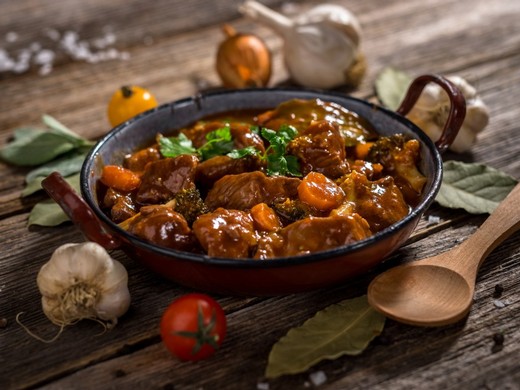 Recipe Date:
April 7, 2020
Measurements:
Imperial (US)
Ingredients
3 1/2 lbs Stew Meat (round or chuck), excess fat trimmed away
3 tbsps Olive Oil
1/4 lb Small White Onions
1 lb Mushrooms
2 tbsps Garlic, chopped
1/4 cup Flour
1/2 cup Italian Tomatoes in thick purée
1 1/2 cups Beef Stock
1 cup Red Wine
1/2 tsp Saffron
1 Bay Leaf
1/2 tsp Thyme
1 Chili pepper, whole
1/2 lb Carrots, cut into 2" pieces (split down the middle)
20 Green Pitted Olives
1/4 cup Parsley, chopped
Salt & freshly ground Pepper to taste
Directions
Cut the meat into 1 1/2-inch cubes and sprinkle with salt & pepper.
Heat the oil until very hot and brown meat thorougly on all sides. This is best done in a large black iron Dutch oven.
Add whole onions, mushrooms and garlic. Add flour, stirring to coat the meat and vegetables. Then brown.
Add tomatoes-in-purée, stock, wine, saffron, bay leaf, thyme, and chili pepper. Add salt and pepper to taste and bring to a boil. Scrape the bottom so that nothing sticks and burns; cover and simmer for 1 hour, occasionally scraping the bottom.
Add carrots and cook for about 1/2 hour longer.
Blanch the olives briefly in boiling water and drain to wash the salt away. At the very end, place olives in the daube. Serve with chopped parsley as garnish.