We are the Bumgarners!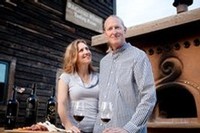 The Beginning
Bumgarner Winery began in the early 2000's with a vision for high quality Cabernet Sauvignon from the Sierra Foothills, El Dorado AVA. Recognizing that El Dorado has many of the classic conditions for growing great Cabs in common with Napa's mountain districts, yet not yet recognized for this particular varietal, Brian launched his first wines in 2005 and 2006 solely producing Cabernet Sauvignon. Bumgarner Cab was well received as a "Beautifully magnificent and intense California Cabernet Sauvignon with quality far exceeding typical expectations of a foothill Cabernet." Some of the area's top restaurants started serving this new, up and coming region favorite. In 2007 we expanded our product line to include additional varietals; Tempranillo, Pinot Noir, Petite Sirah, and a Bordeaux-style blend called Many Hands Cuvee. At the end of 2010 our first tasting room opened in Camino. In December 2017, the 30-acre Fair Play property was purchased with winery, tasting room, and 10-acre vineyard. Surrounded by vineyards, a pond, age-old oak trees, and a plethora of wild life, this is where Bumgarner Winery & Vineyards now calls home.
Today
Bumgarner Winery & Vineyards now spans the El Dorado wine region on both north and south sides. With retail tasting rooms in both Fair Play and Camino serving innovative wine-on-tap, Hard Ciders, and wine by the glass. Come on by and say hi! #wherebeautymeetsbounty
#bumgarnerfairplay
7380 Vineyard View Drive, Fair Play, CA 95684
The Fair Play Estate Tasting Room is just one mile off the Fair Play loop set atop the ridge at 2750' elevation with spectacular year round views. Open Saturday & Sunday, 11 am - 5 pm.
#bumgarnercamino
3550 Carson Road, Camino, CA 95709
The Camino Tasting Room is set in a rustic barn surrounded by green lawns and our fig grotto, with picnic area & grounds all for you to enjoy. For your convenience we have a deli case with charcuterie, delectable cheeses, crackers and cookies for sale. Open daily, 11 am - 5 pm.