#winebums


Winter Club Release
Coming Soon...


The Winter Club release is on it's way; 2017 Tempranillo, 2018 Petite Sirah, and 2018 Pinot Noir. February 27, 2021 we will celebrate the Winter Club Release at our Fair Play location from 12 noon to 5 pm. Chef Alan will be joining us for some mouth watering light bites perfectly paired with these three new wines!
This is an outdoor event. Please plan to dress accordingly; jackets, layers, hats, and blankets are encouraged.



Complimentary to Club (limit two)
Additional Guests $15 per person

If you're not yet a club member, now is the time to join. Benefits include access and savings to our limited wines, complimentary tasting, and invites to winery events & experiences.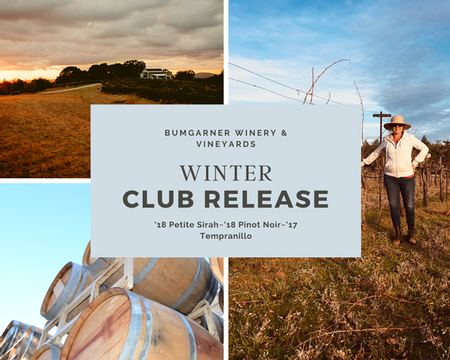 Would you like to be a Wine Bum? It's easy, sign up and enjoy complimentary tastings and club savings on your wine purchases starting today! Members receive invitations to private club events and discounted general tickets for public events.
We only ask for a one-year commitment or a $50 early cancellation fee will be charged. Members must place a credit or debit card on file for automatic payment processing.
Ship or pick up? You choose, your wine can be shipped or picked up at either location in Camino or Fair Play. Wine exchanges can be requested after initial processing either in person at pickup or prior to shipping.
Quaterly Club shipments are in February, May, August, & November. Selections include whites and reds. Please inquire about a reds only option.
The Holiday Club includes whites, reds, & sweets and is not available for a reds only option.