National Zinfandel Day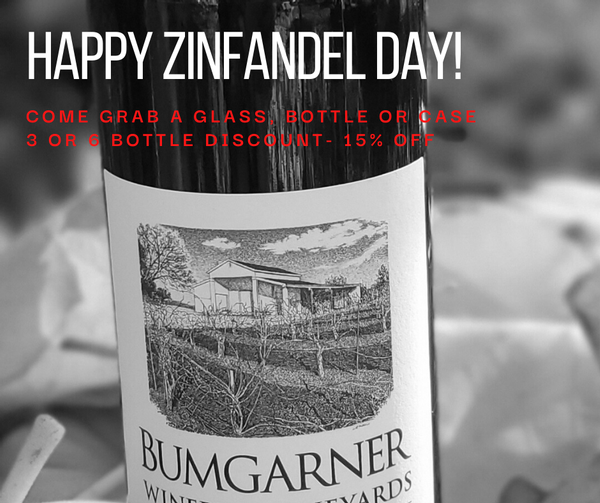 It's National Zinfandel Day!!!
Did you know that Zinfandel is the most widely planted wine grape in El Dorado and the 4th most planted grape in California? Come on up to our Camino tasting room today and grab a glass, bottle or case of our delicious Zinfandels! Open all day, 11am to 5pm.
3 or 6 bottle special- 15% off!
---
Offering bottles of 2017 & 2018 Zinfandel from our library collection
&
A tasting, glass, bottle or case of our new fall release 2019 Zinfandel!
---
A little history:
Zinfandel is thought to be one of the oldest grape varietals from which wine is still being made. There is evidence that places the first Zinfandel wine, ancestors in the Caucasus, at approximately 6000 BC. Historians have traced Zinfandel's roots in the United States back to the 1820's. After the 1849 Gold Rush, production of Zinfandel grapes surged because it could easily be cultivated using the traditional European "head pruning" technique, requiring no special equipment or scarce resources, and is a technique still used today. Zinfandel's appeal soared during this time because it grew vigorously and provided miners with a versatile, substantial beverage. Zinfandel's expansion in the 20th century is a testament to its hardy constitution, by mid-century it had become the most important varietal among California red table wines.