2021 Valentine's Featured Tasting Rhone Wines
Fall in love with Rhone this Valentine's Weekend!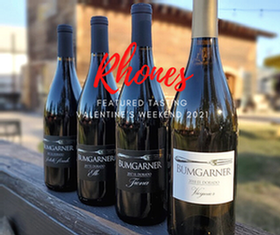 Featuring Bumgarner limited Rhone varietals and blends all weekend at both locations.
Taste the the limited two Rhone sisters; 2017 Elle & 2017 Fiona, (Rhone-style blends named after our two daughters), the BUMBly Rose (Grenache Rosé) in the flip-top refillable bottle, the 2017 Petite Sirah before it moves to the library, and pick up the last of the very popular 2018 Viognier.
Featured Wines
BUMBly Rose (Grenache Rosé)
2018 Viognier
2017 Fiona (GSM blend)
2017 Elle (GMC blend)
2017 Petite Sirah