Cabernet Franc Day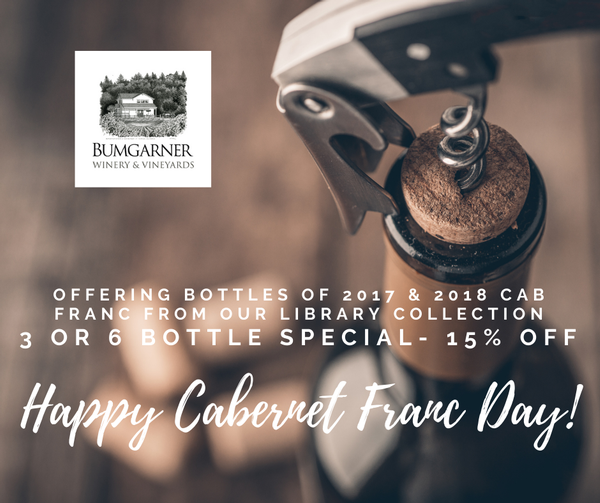 It's Cabernet Franc Day!!!
Jennifer's personal favorite! This Bordeaux varietal contains delicate sweet-savory flavors and each sip tastes of herbs and peppery earthiness with medium-to-high acidity, making it a delightfully refreshing drink. Over the years, Cabernet Sauvignon has dominated the industry. Now, Cabernet Franc finally gets its much-deserved day in the sun!
---
Offering bottles of 2017 & 2018 Cab Franc from our library collection
3 or 6 bottle special- 15% off!
---
A little history:
Cab Franc Day, the first-ever celebration took place in 2015, but it all began in southwest France sometime in the 17th century with Cardinal Richelieu's love for a particular blue-black grape. He loved them so much that he transported vine cuttings from Bordeaux to the Loire Valley. The berry has been growing and thriving there ever since. Today, Cabernet Franc is one of the most widely planted grape varieties in the world. To remember Cardinal Richelieu's legacy, we celebrate Cabernet Franc Day on December 4 – the anniversary of his death. Without his passion for the grape, the world would be bereft of the Cabernet Franc.